An up-to-date CPR certification is a requirement for many professionals, so it's important to stay on top of renewing your certification before it expires. While most people know that they need to be certified in CPR in order to work in certain professions, many don't know how to renew CPR certification. 
CPR and first aid certification should be renewed every two years. An expired certification can prevent you from being able to work or limit you to working in specific settings, so it's essential to stay on top of certification renewal — especially if it's a requirement for your job.
If your CPR certification has expired or is about to expire, here's how to renew CPR certification in four easy steps.
Step 1: Determine Which Type of Certification You Need
When it comes to how to renew CPR certification, the first step is determining what type of certification you need. Depending on your career field and how thoroughly the course is meant to cover CPR, you might need to complete your certification in one or more of the following:
If you're in the healthcare profession, you will likely need a BLS certification. If you are in professional fitness or childcare, or if you work in an environment where you are often around children, you will likely need to take a course that trains you on techniques specific to children and infants. 
If you're unsure about which certification you need for your profession, visit our guide to State CPR Requirements by Profession to learn about the requirements for your job. 
Typically, the frequency at which you'll need to recertify depends on your employer's requirements, the organization through which you got your certification, and the certification itself. For the vast majority of cases, you will be required to renew your CPR certification every 2 years. 
Step 2: Decide Whether You Prefer Online or In Person
Deciding how to renew CPR certification can be an overwhelming task, but it doesn't have to be complicated — it just takes a bit of research and planning! Consider your learning style and lifestyle, how much time you have available, how comfortable you are with technology, and which learning style fits best for you. 
Do you work long or inconsistent hours, have kids, or prefer to learn at your own pace? In that case, an online CPR course might work best for you. On the other hand, if you value hands-on experience or work regular hours, you might opt for a blended or in-person class. 
If a bit of both methods appeals to you, a blended course allows you to complete the online learning and assessment elements at your own pace while offering the hands-on skills evaluation carried out by an instructor in a face-to-face setting over Zoom video conference.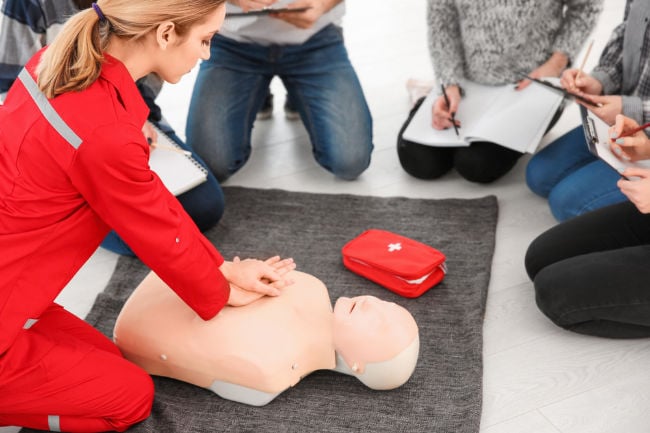 Our blended classes allow for more flexible and convenient learning and ensure each student is confidently trained on how to deliver CPR best practices and techniques, as well as how to respond when faced with real life-threatening situations.
Keep in mind that many professions are required by their employers or their licensing board to complete a hands-on skills evaluation. If this is true for you, you will need to choose either a blended program or an in-person program. 
Many busy professionals prefer a blended program because it allows them the flexibility to complete the training portion at their own pace and whenever it is convenient for them, while still being able to complete a live skills evaluation with an instructor. 
Step 3: Complete the Course & Pass the Exam
Staying on top of your CPR certification renewal is essential in the event of an emergency where you may need to step in and help save a life. It's important to fully understand how the human body works so that, during an emergency situation, you can provide life-saving support. Taking the time to complete a CPR course ensures you're up to date on best practices. 
If you've retained your basic knowledge and renewed your CPR certification before, you may be able to take an exam challenge rather than attending a full training class during the renewal process. This is a convenient option for those with prior experience, who use their CPR skills often in the line of duty (such as nurses and other healthcare professionals), or for those who are confident in how to perform the necessary skills. 
Whether you decide to take the course from the beginning and review all of the course materials or you decide to jump to the exam to complete your CPR certification renwal, you will need to pass the exam with a grade of 80% or better. 
Once you complete your exam, you will be eligible to receive your renewed CPR certification card. If you need to complete a hands-on skills evaluation – as many healthcare professionals do – you will complete that portion of the program after passing your final exam. 
At ProTrainings, our CPR certifications have a 99% employer acceptance rate and we have partnered with many professional organizations to meet or exceed their particular requirements for the professionals they oversee.
Step 4: Renew Your Certification Every 2 Years
Once you know how to renew CPR certification, you need to ensure that your CPR certification remains up to date and relevant. For most professionals, it's essential to renew your certification every two years. There are a few steps you should take to make sure the process goes smoothly. 
First, familiarize yourself with the expiration date on your card and note when you'll need to arrange for renewal. Add a note to your calendar to remind you of your upcoming CPR certification expiration. If you complete your CPR certification and renewal through ProTrainings, you can skip this step. We send our students automatic reminders with plenty of notice of your upcoming expiration and renewal requirements. 
Second, research the recertification requirements unique to your profession – such as the course content you need to complete and whether you can do your renewal online or in a blended program. Keep in mind that each state has varying CPR regulations, so make sure your course is approved in your state. 
ProTrainings courses, for example, adhere to guidelines set by the American Heart Association, the Emergency Cardiovascular Care Committee, and the International Liaison Committee on Resuscitation and are approved by hundreds of associations, boards, and businesses.
Whether you're an EMT, a lifeguard, a health care practitioner, an athletic coach, or simply someone who values keeping up to date with CPR best practices, following the proper procedure and knowing how to renew CPR certification is essential.
Contact us today to learn more about how to renew CPR certification, as well as our group and remote-staff CPR certification programs.