As awareness of how vital CPR is to increasing a victim's chances of survival grows, so will the number of people looking to get certified. But with in-house, blended, and on-site CPR training courses to choose from, how do you know which is right for you?
There are many reasons a company will want its employees to be trained in CPR. Whether CPR certification is mandated by your state board, the Occupational Health and Safety Administration (OHSA), or the company itself, employees that have a solid understanding of CPR techniques help create a safer workplace.
Read on to learn about in-house versus on-site CPR training and how to choose the right one to get your team CPR certified while minimizing workload and maximizing efficiency!
Blended vs. In-House vs. On-Site CPR Training
CPR instruction comes in many different forms, and it can be a minefield to navigate them. After all, you want to make the best decision for your team while keeping costs low and productivity high. Here's how blended, in-house, and on-site CPR training differ.
In-House CPR Training
In-house CPR training is delivered right at your workplace by a member of your team. Simply select your course type and nominate a member of staff to then be trained as your company's designated instructor.
The rest is easy: staff complete an in-person, video-led training module followed by a skills evaluation with their certified staff instructor. Just like that, your team is certified!
On-Site CPR Training
On-site CPR training, also sometimes referred to as "outsourced" training, is delivered in a third-party classroom by an external training provider.
There are many types of on-site training courses — some span several days while others last a matter of hours.
Blended CPR Training
Blended training offers the best of both worlds because it allows you to select your course and equipment, then, like in-house training, choose a member of staff to become your company's designated instructor. Trainees will complete an online training module followed by a hands-on assessment with the designated in-house instructor.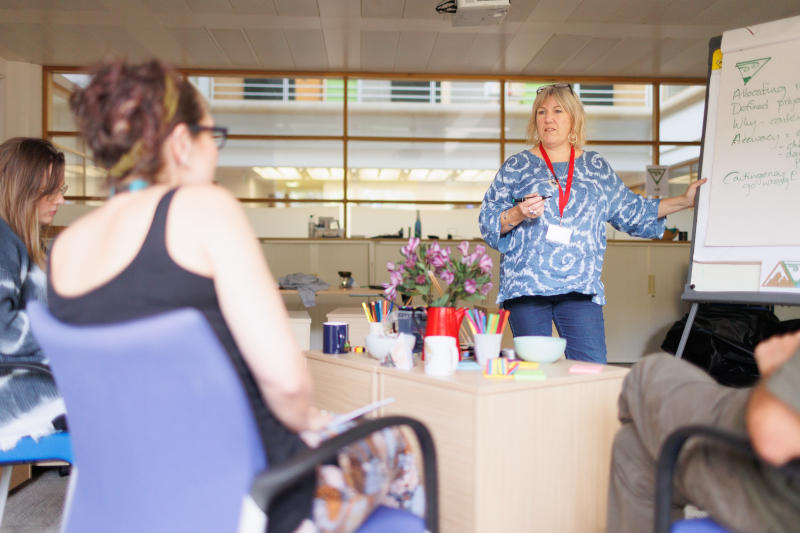 The blended option is ideal for teams that:
Work remotely
Require hands-on skills evaluations
Are OK with having team members learn individually rather than in a group
If you're set on having an in-person, hands-on component to your CPR training but struggling to choose between in-house and on-site CPR training, read on to learn the best cases for each.
In-House CPR Training
In this fast-paced world, in-house training is becoming the preferred option for many kinds of business. Here's why:
The cost is typically lower. In-house training allows more employees to be trained at once and eliminates added travel costs and time. At ProTrainings, we offer instructor training where one employee can be trained as the company's in-house instructor.
An in-house trainer will deliver future courses. A designated in-house CPR instructor will always be on hand to answer questions and deliver training to new employees.
It fits around your company's schedule. In-house CPR training means more flexibility. Do you have a staff meeting every morning at 9 a.m.? Does your lunch hour typically fall at the same time every day? With in-house CPR training, you can maintain these daily rituals and fit the training around your work day.
It offers excellent team-building opportunities. Any shared experience can craft better relationships among colleagues. In-house CPR training is a team-building tool that can unite people from separate departments who may not work together on a daily basis, giving colleagues a new talking point and an idea of shared responsibility.
Increases information retention. In-house training delivers the curriculum in a relaxed, familiar environment, so employees are more at ease and thus more likely to retain knowledge from the course. According to Training Industry, information delivered in a "brain-friendly" environment is more likely to stick.
Despite the many benefits, in-house CPR training can also have its downsides, from difficulty keeping employees focused in a relaxed setting to having to navigate the logistics of organizing the training at your place of business. On-site CPR training eliminates many of those challenges.
On-Site CPR Training
On-site CPR training is the go-to choice for those looking to send their staff to another location to qualify. Some of the biggest names in CPR training offer on-site CPR training courses; however, classroom CPR courses tend to be more rigid in terms of their methods, processes, and training delivery.
For example, staff are expected to attend classes in person — wherever the training provider chooses. This means those taking the class must stick to specific time slots and travel to an external training center.
In-house CPR training is easy and convenient. It makes getting staff CPR trained and certified flexible, fun, and future proof! Plus, ProTrainings is proud to deliver free CPR training across the U.S. Whether you choose blended, in-house, or on-site CPR training, we have a variety of options to suit any business need.
Contact us today to learn more about our group and remote staff CPR certification programs, and let us deliver the best training for your needs.