Cardiopulmonary resuscitation (CPR) has been around for centuries, so the history of CPR is long and complex. As technology and medicine have advanced — and continue to do so — so do CPR best practices. Today, online CPR training and certification are a convenient, accessible way to do what used to have to be done in person.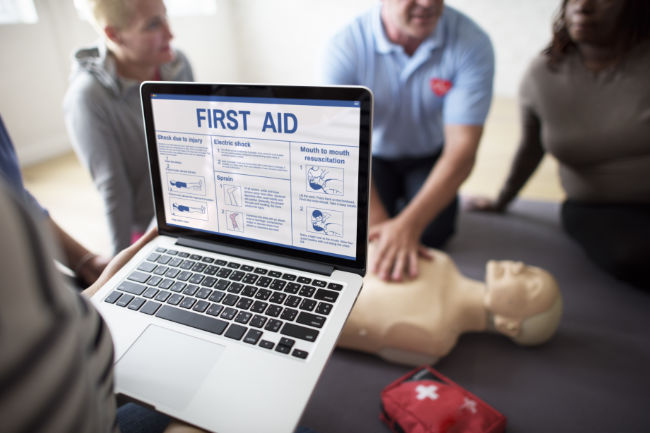 By bringing CPR into the digital age, the medical world has made it possible for people of all ages, social classes, and lifestyles to learn a skill that helps save lives. Now, almost anyone can get just as effective and in-depth an understanding of CPR as they would have in person — but from the comfort of their own home and at a time that works for them.
Keep reading to learn about the contemporary history of CPR and how it has evolved into the CPR of the digital age that we know today.
The Early History of CPR Training
CPR is an emergency procedure used to help restore breathing and circulation to someone whose heart has stopped beating. It involves chest compressions and, if necessary, rescue breaths to circulate oxygen-rich blood to the brain and other vital organs.
CPR can be performed by a trained individual or by a bystander, as long as they are properly trained in how to do it. But while the use of CPR can be traced back as far as ancient Egypt, CPR training didn't become mainstream until around the 1960s.
In fact, in 1972, a man named Leonard Cobb taught the first CPR course to over 100,000 people over two years. In the 1980s, CPR was taught over the phone — the first time people could learn the skill from home — and then, in the early 2000s, online CPR courses were created to help health care professionals complete their certifications from home.
How COVID-19 Propelled CPR Training Into the Digital World
The COVID-19 pandemic's social distancing measures meant in-person training sessions were no longer feasible. This led to an increased demand for online CPR courses as a safe and convenient alternative.
Additionally, many organizations have started offering free or discounted online CPR courses to help people stay safe during the pandemic. Now, online and blended courses have become the norm for people who want to complete CPR training from anywhere and at their own pace.
CPR in the Digital Age
The internet has revolutionized the way we learn, and organizations are recognizing the value of offering them. CPR is no exception. Online learning has made CPR training and certification more accessible and cost-effective, thereby allowing for a deeper — and more widespread — understanding of the technique.
Online CPR training has a number of benefits, including:
It's more convenient than traditional in-person courses
It's cost-effective
It offers a variety of payment options
It can be taken at any time and from anywhere
It provides the same level of instruction as in-person courses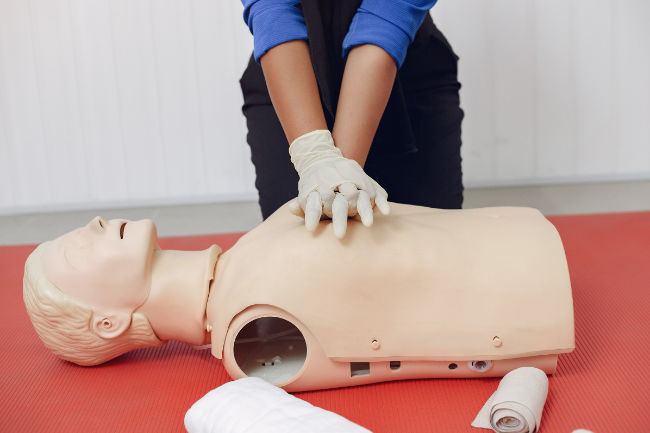 Online CPR courses have also improved the quality of CPR training. Many courses include interactive elements, such as simulated scenarios, that help to reinforce the knowledge of the history of CPR and necessary skills gained through the course. This helps to ensure that individuals who receive the training are better prepared to take action in an emergency.
Further, the digital age has marked a huge step in the history of CPR with the development of more advanced CPR techniques. For example, CPR training now includes the use of AEDs (automated external defibrillators) and other medical devices that can be used to help save lives.
Online vs. In-Person vs. Blended CPR Training Options
There are three main types of online CPR training options — fully online, fully in-person, and blended. Fully online courses are designed to be completed entirely online, while fully in-person classes are designed to be completed in person.
Blended courses, on the other hand, involve a combination of online and in-person components. These courses usually require students to attend a hands-on virtual skills evaluation session, as well as complete online coursework. The type of course you choose will depend on your needs and preferences.
It's worth noting that some online courses offer a variety of payment options, so you can choose the one that works best for you. At ProTrainings, for example, we offer a Pass > Pay > Print option for some of our courses, where training and testing are free of charge and you only pay if you choose to get certified.
Common Misconceptions About Online CPR Training
Despite the prevalence of online learning, there are still some misconceptions about online CPR courses. One of the most common is that online courses are not as effective as in-person courses. This is simply not true — online courses offer the same level of instruction and prepare students for real-life emergencies just as well as in-person classes.
Another common misconception is that online courses are not as comprehensive as in-person courses. This is also not true — online courses are designed to provide the same level of instruction as in-person courses and can help you gain the same level of certification.
The Future of Online CPR Training & Certification
The future of online CPR training and certification looks bright. As more organizations recognize the value of offering online courses, the demand for these courses is likely to continue to grow. This will open up more opportunities for people to learn the skill and gain certification without ever having to leave their homes.
In addition, the emergence of online training and certification has made it easier for organizations to offer CPR courses to their employees. This has led to more workplaces offering CPR training, which can help ensure the safety of employees in an emergency situation.
Follow us on Facebook to learn more about the history of CPR and our group and remote-staff CPR certification programs.