At some point or another, most medical professionals, health care workers, and busy people who value staying on top of their CPR knowledge have probably asked, can you renew CPR online? 
The answer is: Yes! But while many websites offer online CPR courses to help you refresh your skills, it's important to note that not all courses are created equal.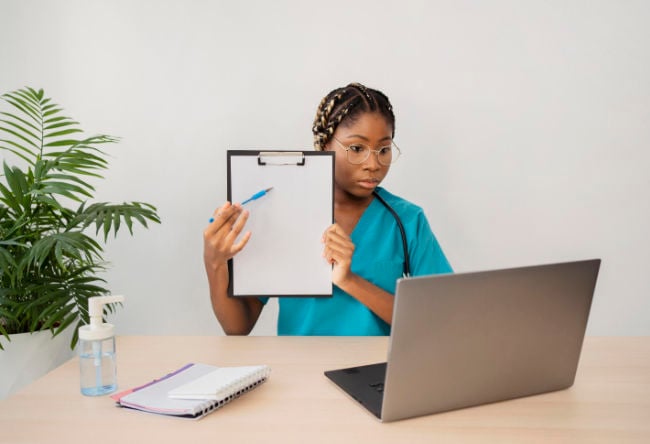 Some online CPR courses may not meet the requirements set forth by your state or professional organization, so it is always best to check before enrolling in one. That said, if you find a reputable source, renewing your CPR certification online can be a quick and convenient way to keep your skills up to date.
To anyone wondering, can you renew CPR online?, keep reading to learn how and what to look for in a reputable online course.
Are Online CPR Courses Legit?
The short answer is: Yes! As long as you get your CPR certification from a reputable online provider. For example, ProTrainings follows all ILCOR and AHA guidelines and is accepted by 99% of employers. 
CPR courses haven't always been available online. Prior to the pandemic, CPR courses for many professionals – particularly those in healthcare – could not be completed entirely online because they required an on-site skills check. 
Now, thanks to newly developed safety recommendations and the growing popularity of e-learning, can you renew CPR online? Absolutely! The COVID-19 pandemic has changed the way health care organizations and those requiring certification access and make use of CPR classes. 
One of the most dramatic changes is the shift to predominantly online learning, which provided a much needed solution in times of social distancing and a safe and efficient way to obtain certifications. The shift to online learning is here to stay, and renewing your CPR certification online is easier than ever. 
Many organizations offer accredited online CPR courses that can be completed within one day from the comfort of your own home and with the same or even better standard of instruction as an in-person course. This convenient option can help you quickly get the skills and knowledge you need to effectively provide life-saving assistance, keeping both yourself and others safe.
For those professionals who need to complete a live skills evaluation with a certified instructor, you can choose to do a blended CPR program to get the benefits of online learning with the addition of a live skills assessment over video conferencing. 
How to Ensure Your Online CPR Program Is Legit
To ensure that your online CPR program is a reputable, legitimate source of information and instruction, there are three things to look for before signing up for your online CPR renewal. 
Third-party accreditation. When done correctly and from a safe and secure website, it is indeed possible to renew your CPR certification online. Reputable CPR training providers will be vetted by accrediting bodies and professional organizations such as the US Coast Guard, the American Dental Association, and the Commission on Accreditation for Prehospital Continuing Education (CAPCE).
The provider's business reputation. Look into the reputation of the organization amongst health care providers — as well as whether it's accepted by esteemed businesses and associations. Research can help you determine if the provider adequately meets your needs, so take your time to make an educated decision.
Research the online CPR provider's efficacy. You want to be sure that when the time comes to renew your CPR, you'll get a high level of quality and safety training. Check out official organizations' opinions and customer reviews for real-life perspectives, and even compare different providers.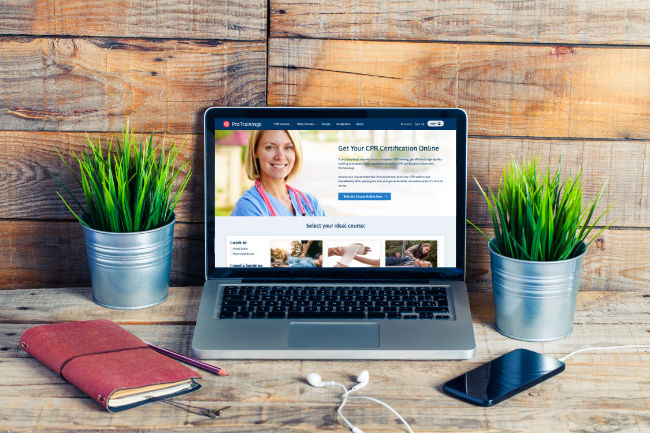 Taking all of these factors into account will help you choose an online CPR program that can give you a quality certification upon successful completion. After all, someone's health may depend on it!
Can You Get a Valid CPR Certification Online?
Many of us want to take the initiative to learn CPR, but our schedules or other circumstances prevent us from attending a classroom course. That said, as technology advances and remote learning opportunities grow, can you renew CPR online? And beyond that, is an online certification really as valid as an in-person one? 
While there are plenty of websites that offer online CPR classes and certifications, questions can arise regarding the validity of these certifications. Further, certain organizations only allow you to renew your certification in person every two years. 
So while it may be possible to obtain some form of online CPR certification, whether or not you can renew CPR online remains up to your employer and the requirements of your profession. 
At ProTrainings, we offer online, in-person, and blended courses for both CPR certification and renewal so you can choose the learning method that works best for you and your lifestyle.
Can You Renew CPR Online Today?
Online CPR programs offer convenience, affordability and safety that is certified by third-party accreditors, as well as verified provider reputation reviews and research on efficacy. Today, there are a variety of ways to renew your CPR certification online. 
When choosing an online provider, don't put off taking the necessary steps to ensure that your lifesaving skills stay up to date. With the right tools, completing an online CPR renewal can be a quick and simple process. But you also want to make sure that you'll retain your CPR knowledge in case you need to use it. 
At ProTrainings, students receive regular course content refreshers directly to their email inboxes to serve as quick reminders of their skills throughout the year. You'll also receive notifications when your certification is about to expire so that you can complete your CPR renewal quickly and efficiently online. 
Most importantly, don't forget the significance of researching thoroughly before enrolling in an online program to make sure that it meets the criteria for online CPR renewal. With so many resources available for you to use confidently today, don't wait any longer. Stop asking, "can you renew CPR online?," and start asking, "when can I start?"!
Contact us today to learn more about our group and remote-staff CPR certification and renewal programs.