When it comes to lifesaving training, there's no shortage of options for medical professionals and those who want to be prepared for an emergency. However, with many different certifications available, the differences in BLS vs CPR training can be blurred.
Whether you're researching training to prepare for your ideal future career or you're already a licensed professional who requires continuing education, it can be confusing to identify the differences between BLS vs CPR certification and decide which is the right course to suit your needs.
Read on to learn more about each of these important lifesaving training options, the differences between BLS vs CPR, and common questions we hear about our courses.
CPR Certification
CPR training is a course directed at proving up-to-date information on how to effectively administer CPR to people of all ages. We believe this foundational skill is so important to saving lives that we provide this training free of charge to anyone.
However, if you want to receive your certification in CPR for your resume or you're required to maintain certification for your job, there's a small fee you will pay after you pass your exam. We are often asked about the content of the course and how long it will take, so we provide that information up front before you ever sign up.
Our General CPR course for all ages is about the length of most modern day movies at two hours and sixteen minutes. However, unlike your average action thriller, it's divided up into several brief lessons that adapt to even the busiest schedule.
These lessons include the most current guidelines on how to perform CPR, as well as information on choking, bleeding control, and universal precautions that should be considered in the workplace.
BLS Certification
Basic Life Saving training is very similar to CPR training in that it also covers universal precautions, cardiac arrest, and more common events like choking and how to control bleeding. While these trainings have overlap, BLS training is aimed at healthcare professionals who likely have more advanced medical training experience.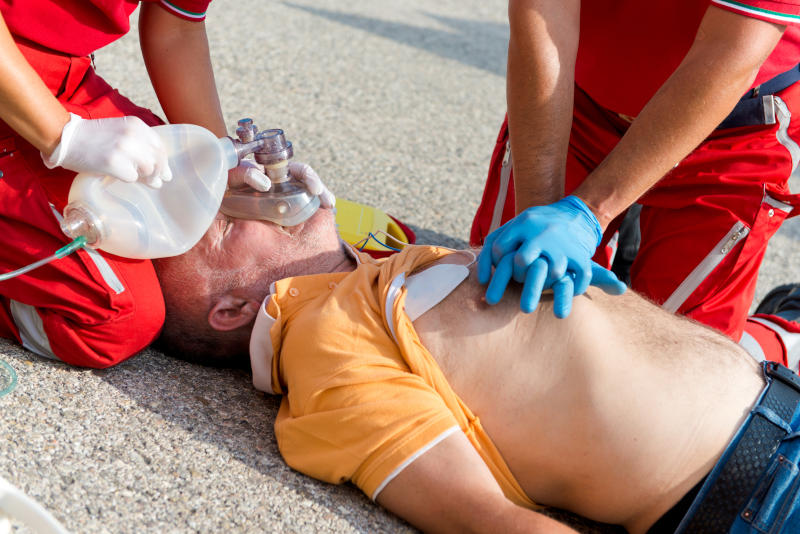 While only an hour longer than our standard CPR training, BLS training still covers current American Heart Association guidelines, while also including information about respiratory arrest as well as skills that can be applied with multiple rescuers.
Despite providing extensive lifesaving knowledge, our BLS certification course is only $20 more than our general CPR course for all ages. While the fee is only nominally more than our CPR certification, trainees receive high quality information from experienced professionals who have used the skills they're teaching.
The Primary Difference Between BLS vs CPR
When deciding between a BLS vs CPR certification, it is important to understand the differences between these two important courses. A BLS certification is aimed at first responders, whereas CPR certification is equally important for other non-medical professionals such as teachers, construction workers, or others who have frequent contact with the public.
This key distinction is primarily due to the resources available to a person who might be called upon to provide CPR in an everyday situation vs a first responder who will be called to provide Basic Life Saving skills and will likely have a variety of specific tools at their disposal, such as bag valve masks.
Citing Your Certifications
After you've decided between a BLS vs CPR course and received your certification, it is important to update your resume to show that you have these essential skills. For first responders and those likely to be in an emergency situation, showing you have a current BLS certification is more important than leading with a CPR certification.
We suggest reaching out to your current organization or a prospective employer to learn which companies they accept training from. If you don't have a specific company in mind, select training from a company like ProTrainings, as our training courses are accepted by 99% of employers, organizations such as the US Coast Guard, and many more!
When deciding on the right certification course, the differences between each can be confusing. Knowing the difference between BLS vs CPR courses, their costs, and the length of training is key to finding the right training for you.
At ProTrainings, we believe everyone should have access to high quality training that can be taken anytime to fit your unique needs. Our online content clearly explains the material being covered up front and the length of each video, so there's less risk for buyers' remorse in finding out you signed up and paid for the wrong training.
Contact us today to learn more about how ProTrainings can help you make getting your staff certified easier and more efficient.