CPR is a life-saving skill — so those who teach CPR classes can feel a lot of pressure to ensure lessons are concise, informative, and effective. The ProTrainings staff has had decades of experience teaching students, and one question aspire CPR instructors ask is "how do you know how to teach CPR?"
Whether you want to teach an online, an in-person, or a hybrid class, knowing how to effectively teach CPR is essential to ensure your students are prepared to act in an emergency. We sat down with Jason Courtade, one of our experienced CPR instructors and resident paramedic, to get his top tips for teaching a CPR class.
Read on to find how to teach CPR in eight simple but effective steps.
1. Set the Tone With Professionalism
First impressions are important. Keeping a professional mindset throughout your communication and interaction helps to translate your experience and skills across to your students with the respect that teaching CPR should have.
Communicating with professional language and responding in a timely manner sets the stage for your students to recognize the importance. Jason and the whole team at ProTrainings agree that when it comes to how to teach CPR classes, professionalism is a cornerstone in all we do.
2. Be Prepared
Preparation isn't just for the Boy Scouts. By ordering the materials well in advance of training, you can accommodate the number of students you expect to join the class and avoid any last-minute chaos.
When using technology, doing a dry run in advance to make sure connections will function as expected is a great idea.
When preparing for your students, having the correct amount of paperwork and a properly cleaned area is important, but we always like to remind instructors we train to ask students whether they need special accommodations ahead of time.
3. Be Knowledgeable
Without knowledge, knowing tips on how to teach CPR is a fruitless exercise, but the same could be said of instructors who fail to review their course content. Especially when an instructor is new to teaching CPR classes, we always suggest reviewing the material several times to feel more comfortable with answering questions students will have.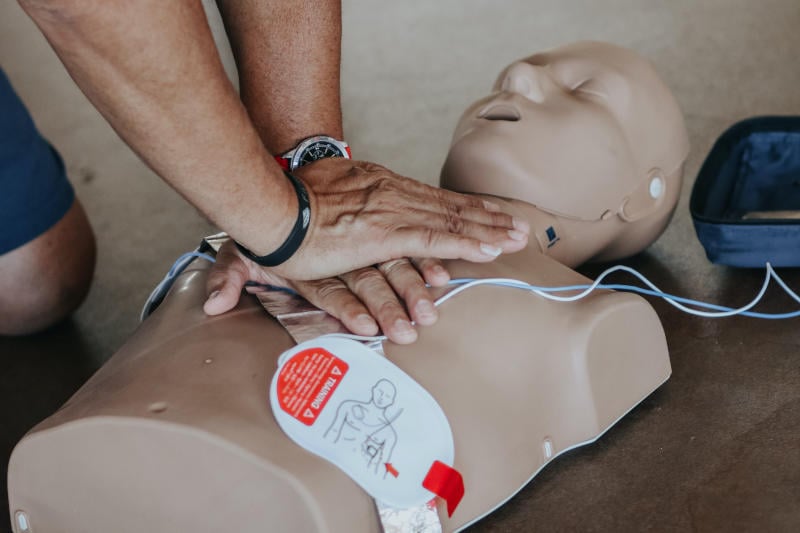 When it comes to a question you don't know, admit it! Honesty is always the best policy, but it's even better when it's backed up with research after the course to find the answer and share that knowledge with the students. Never be afraid to admit you're still learning and growing, as that's a sign of a true health care professional.
4. Check Attitudes
Teaching CPR is not generally seen as a laughing matter, but that doesn't mean it has to be a grim affair. Welcoming students with a warm greeting and encouraging students who seem nervous or anxious about the course helps to break down the walls that stand between your content and their comprehension.
Our instructors know when it's okay to bring in some appropriate laughs to lighten the mood and help people to continue to enjoy their learning experience. People learn best when they're having fun. But while we're having fun, we always encourage a CPR Instructor to positively correct any missed knowledge or skills their students exhibit in the training.
5. Have a Plan & Follow It
Having a game plan isn't just for coaches. Effective educators will sit down and plan out their content with a general timeline to ensure that the class stays on track and doesn't leave out key information.
Having your plan around during class with notes, either on paper or digitally, can help provide you with added resources to search through to answer questions posed by students during the course.
6. Have a Backup Plan
Even the best laid plans fail to materialize at times. Maybe a student missed the group instruction portion due to an emergency or wasn't informed of the training with enough time to attend. No matter the reason, having a backup plan to help the student gain the knowledge needed in a time effective manner is ideal.
ProTrainings online training videos make an ideal backup plan for these use cases. A student can asynchronously gain the knowledge they need through the hybrid course and skills evaluation.
7. Follow Up
Following up with your students after the course helps to establish open lines of communication should they have any future questions or want to relearn topics in the future.
Thanking students for their efforts helps affirm their experience as a positive one as much as receiving their course card.
8. Modeling Makes It Meaningful
Ultimately your students are learning from you, so be the role model of how a CPR instructor and ultimately, a person with life saving skills should act. Without a quality teacher who knows how to teach cpr, students often fail to engage fully with the material and leave uneducated and unsatisfied.
That's why real world experienced instructors like our very own Jason Courtade can help show how meaningful a training can be. When considering learning how to teach cpr, look for instructors who share these same philosophies of teaching and are transparent about their approach.
When it comes to learning CPR, the instructor's skill set is just as crucial as the skills the students are leaving with. A class that contains a professional and prepared approach that is grounded in a student focused training that presents best practices is an ideal way to teach these life saving skills.
But it's the intentional communication and skills modeling that help go above and beyond learning how to teach cpr. This is the ProTrainings method that we believe is the reason we're the ideal company to train you or your staff on how to teach cpr in the most effective and complete course that we've developed over years of experience.
So when you're ready to take the step to become a CPR instructor, get certified as a CPR instructor through ProTrainings with our instructors who make all the difference!