Whether you're a medical professional or just a fan of TV medical dramas, you've likely heard the term "DNR order." A do-not-resuscitate, or DNR, order is a patient's order to not be resuscitated in the event that life-saving measures are required following a cardiac arrest or other life-threatening event.
While DNR orders have very real consequences for medical professionals who must follow their patient's wishes, this important document can place a patient in control of their well-being and allow them to make decisions that align with their overall treatment wishes.
Here's everything to know about DNR orders, the various types, and when you do not resuscitate versus when you do.
Basics of Do-Not-Resuscitate Orders
An order to "do not resuscitate" is exactly what it sounds like: a legally binding document of a patient's treatment wishes dictating that you do not resuscitate him or her in regard to the level of life-saving measures they're willing to undertake to sustain life.
Many people incorrectly attribute a DNR order to mean that an individual has made the decision to refuse any additional medical treatment for a condition or diagnosis. This is a vast overgeneralization of what the DNR order actually stands for, because a patient's agency to not want further medical treatment doesn't necessarily coincide with a DNR order.
Note that a DNR order is specific to the state in which it's signed, and each state will have specific situations in which additional medical care can supersede the patient's wishes — for example, if the patient is known to be pregnant. If a person were to move to a new state, he or she would need to arrange a new DNR order in the new state.
In most cases, one copy of the properly completed form will be filed with the health care provider and one will follow the patient. Many people will elect for a medical alert bracelet or wallet-sized card notifying potential first responders of their request to not be resuscitated, so be mindful to place this information in a conspicuous location.
Arranging a DNR Order
To arrange a do-not-resuscitate order, a person would need to reach out to their primary health care provider. At times, a provider may ask a person about their wishes around life-saving measures, but individuals can also initiate the conversation.
Each state will have its own guidelines; however, signatures and input from the following persons must be present in each state's paperwork for the order to be valid. Each of these examples can be seen on the paperwork required for an OOH-DNR (out-of-hospital do-not-resuscitate) order in Texas. The order must be signed by:
A qualified physician. This person must be a licensed medical practitioner in the state in which care is being given and be assigned to or selected by the person seeking the DNR order. While this may seem like a given, a valid medical license to practice medicine could be a conflict for those who practice homeopathic medicine.
A qualified relative. This person — generally a spouse, an adult child of the patient, or their next of kin — is often involved in the arrangement of a DNR order in the case where a patient is unconscious or otherwise unable to make decisions on their own behalf.
A qualified witness. When more than one witness is required on the DNR paperwork, the second witness must be an objective third party not already named on the form (i.e., the physician) and not the patient's spouse or blood relative. Additionally, this person cannot currently or in the future benefit from the patient's estate.
In most states, a social worker or other professional staff can be a great resource to a person who is looking to establish or to ask specific questions about the requirements to arrange a DNR.
Common Types of DNR Orders
While each state has its own unique paperwork that is appropriate for citizens of that state, there are two general types of DNR orders that are most common across the country: do not resuscitate in hospital and do not resuscitate out of hospital.
In-Hospital
When a person is admitted to a hospital, during admission the patient will speak with admissions staff to discuss their treatment plans and give consent to treatment. At this time they can speak with their physician about their wishes to either be resuscitated or only use ventilation, or both. This discussion is important to the patient's wishes being honored.
Do not resuscitate in hospital generally only applies to the length of a single hospital stay and must be reaffirmed with each visit. The temporary nature is meant to allow patients who are in changing health conditions to make decisions that are appropriate for their current situation but allow for built-in updates should their health outlook change.
Out-of-Hospital
Out-of-hospital DNR orders don't simply mean "do not resuscitate" outside the hospital. Rather, they extend beyond the boundaries of a health care facility and are usually initiated by those who have a terminal illness or are in hospice care.
Some people who may believe that providing CPR would harm them or otherwise leave them in a less beneficial state may also make the decision to speak with their health care providers about arranging DNR paperwork. Although CPR, when performed appropriately, has a low injury rate, people with certain diagnoses may be at greater risk for injury. 
Variations on General DNR Orders
Your state may have the above-mentioned types of DNR orders or some variation of two. Every state outlines its own situations in which medical providers do or do not resuscitate victims in need of medical intervention. It's important to know the laws and approved forms that are recognized within your state.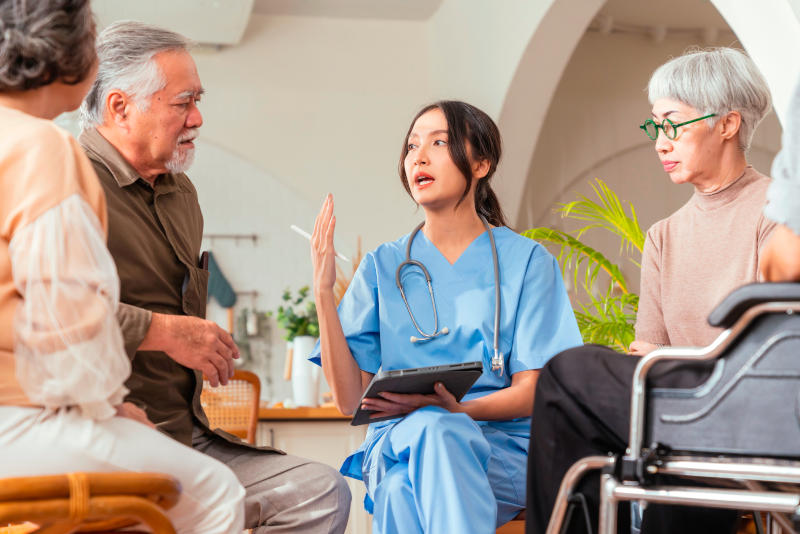 Ohio, for example, distinguishes between two DNR variations: Do Not Resuscitate Comfort Care (DNRCC) and Do Not Resuscitate Comfort Care – Arrest (DNRCC-Arrest).
DNR Comfort Care
A DNRCC order requires that a person receive any care that eases pain and suffering but no resuscitative measure to save or sustain life. This type of DNR order is generally regarded as the better option for patients with a terminal illness, with a short life expectancy, or who may not be well enough to survive CPR without experiencing more medical complications.
DNRCC forms become effective the moment they are discussed with and signed off on by the person's health care provider. "Do not resuscitate" can supersede a power of attorney form in certain DNRCC cases, so it's important to discuss the potential implications with a person's immediate family, next of kin, or power of attorney.
DNR Comfort Care-Arrest
A DNRCC-Arrest dictates that a patient receive standard medical care up to the time they experience a cardiac or respiratory arrest. This type of order does not go into effect until the time of cardiac or respiratory arrest, which is different from the more generalized and standing order of the DNRCC variation.
DNRCC-Arrest is only acceptable within the confines of the health care facility where the medical record is maintained. If the patient is sent home or needs to move to another facility for further treatment and the patient, or their power of attorney, elects to continue the DNR status, a new state of Ohio DNR order form must be completed for the patient.
Consequences of Ignoring a DNR Order
The process and guidelines for establishing a DNR order can vary by state. That said, should a medical professional or other emergency responder willingly ignore or dismiss a valid DNR order, the consequences can be significant, resulting not only in legal fees and insurance settlements but also an emotionally charged and often very public experience.
Medical professionals must be aware of not only their patient's wishes around their life-sustaining decisions but also their own biases around the decision to delay or withhold medical care.
In cases where a patient does express their wishes to arrange a DNR order but his or her physician is unwilling to honor this ethical and legal commitment to the patient's wishes, the physician has an obligation to arrange for or help otherwise facilitate the transfer of care of the person to another licensed practitioner.
For EMS and other first responders, the nature of their work leaves them generally unaware of the person's advanced directives and if there is an existing DNR order. This can present a complication in their role to step in and provide a quick response to an emergency situation.
As such, first responders must remain vigilant when assessing a patient for care and make sure to check for identification or indications of a standing DNR order. This helps protect and honor the patient's wishes, as well as the mental well-being of the responder who may otherwise have to withdraw life-saving measures after beginning care.
An Important Conversation
"Do not resuscitate" is an order that requires open and honest communication when being considered by a patient and his or her family. Being open with health care providers and with the patient's family can help the entire treatment team and support network to be on the same page about a person's wishes for life-saving measures.
There are so many different considerations when it comes to DNR orders. The request that first responders "do not resuscitate" a person who stops breathing or enters cardiac arrest can be a confusing and difficult decision for their loved ones to understand — especially if they're finding out from a health care provider at the height of an emergency.
By conducting research and speaking with professionals who can answer your and your family members' questions, you can make the most informed decisions for all your health care and treatment needs.
For more in-depth dives into important topics and considerations surrounding the life-saving nature of CPR, follow us on linked in.