Do you have staff members who need up-to-date CPR certification? Are you looking for a cost-effective program that will meet your company's needs? Searching for group CPR training can be overwhelming, and it's easy to find yourself wondering where to begin.
There are three standard methods of obtaining CPR training: in-house, outsourcing, or leaving it up to staff responsibility. With each approach comes different advantages and risks, which must be weighed when deciding the best program for your organization. Both the responsibility of selecting the course as well as the responsibility of paying for the training must be taken into account.
CPR training is a vital need for your employees, and you want to make sure they are properly equipped. Are you feeling overwhelmed by all of the decisions to make and options to consider? Let's walk through how you can select the best CPR program for your company.
What Are the Different Types of Group CPR Training?
Cardiopulmonary resuscitation (CPR) is the act of providing chest compressions and rescue breaths to individuals who have stopped breathing or have no pulse. CPR programs are designed to teach people how to perform CPR properly in emergency situations and equip them to save a life.
Beyond the basic CPR certification class, there are two major types of CPR programs: basic life support (BLS) and advanced cardiac life support (ACLS). BLS programs are the more standard of the two, and while required for medical professionals, can also be taken by non-medical professionals wishing to learn more skills. ACLS programs, on the other hand, are meant for healthcare professionals. BLS courses stick to more of the basics of CPR, while ACLS courses are more advanced and cover topics such as administering medication during cardiac arrest.
Both types of CPR programs are critical in saving lives and reducing the number of fatalities during emergencies.
In-House CPR Training
If you are working to ensure that your employee's are up-to-date on their CPR certification, one way to do this is through in-house group CPR training. With in-house training, a staff member would be designated to take the reigns on CPR training for your organization. This staff member would be in charge of planning, coordinating, and carrying out CPR training for the company either through an in-person classroom environment on site or through a blended model.
In-house CPR training provides a number of benefits for both businesses and individuals alike. One of the biggest advantages is that it allows for more personalized instruction, tailored to the specific needs of the company or group.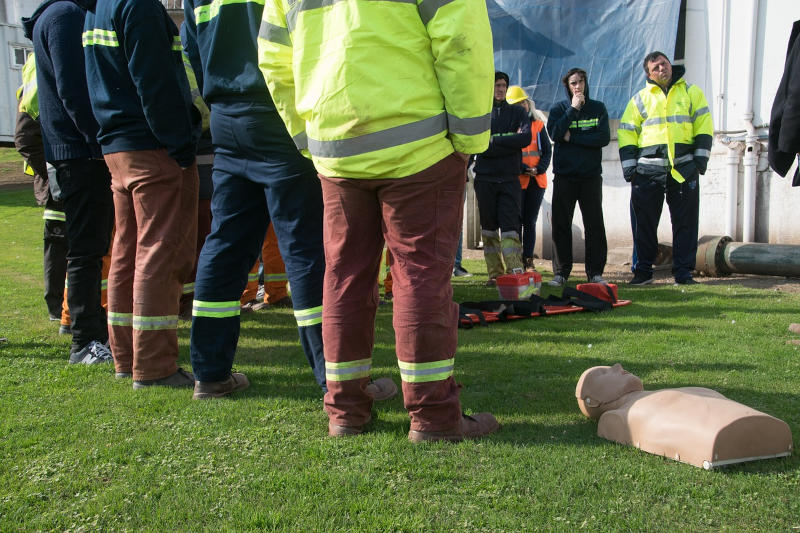 Additionally, in-house training can help to save time and money in some cases, as there is no need to schedule off-site classes or pay for travel expenses. However, for some organizations, in-house training can be quite costly if they need to bring in an outside, third-party instructor to run the training.
It is important to weight the benefits against the potential drawbacks. Do you have a staff member with the time and capacity to lead in-house CPR training? Do you have someone with the knowledge and credentials to do so properly? Can you get all of your team members together on one day to do the training together? Ultimately, the decision to invest in an in-house model of CPR training comes down to a number of factors, including your organization's needs and your staff's availability and resources.
If you feel equipped to do so, in-house CPR training can be an easy and affordable choice for your business that will efficiently allow your employees to keep their CPR certification up to date.
Outsourced CPR Training
If doing in-house CPR training sounds overwhelming or impractical, it may be best for your company to invest in outsourcing CPR training. Outsourced group CPR training has become a popular option for organizations seeking to provide their employees with life-saving skills despite not having the capacity to do so in-house.
Outsourced CPR training can happen in a number of ways. You can hire a company to plan, coordinate, and carry out CPR training in a classroom setting brought in for your employees through a contracted external instructor. You can also select a course locally or online and direct employees to enroll.
The main benefit of outsourcing CPR training is the convenience of having professional instructors take the reigns. You know that your employees will be properly trained and certified, and hiring an external company to take care of this takes a load off your plate and a weight off your mind.
However, outsourcing CPR training in a classroom setting is not often cheap, so your budget does need to be taken into consideration. If price is a concern, consider outsourcing your training to an online or blended CPR training modality. Additionally, when selecting an external company to hire for CPR training, it is essential to make sure that you are in fact working with a top quality company. If a different instructor is brought in for each session, there will be a lack of continuity in training, and your employees may have gaps in their knowledge.
Remember: proper CPR certification can be the difference between life and death, so it is vital that quality training takes place. But if you're able to afford strong outsourced training, it can be a huge time-saver for your organization.
Staff Responsibility
The final option when deciding on how to handle CPR training for your employees is to leave certification up to staff responsibility. In this situation, staff members are responsible for deciding how to obtain their CPR certification. They can choose an online, in-person, or blended option, and then proceed to take the course and get certified.
In this scenario, it is probably best to set a certain date by which employees must be CPR certified. This ensures that everyone has their necessary certification and is kept up-to-date on their training.
When leaving CPR training up to staff responsibility, it must also be decided who will be funding the training. In some cases, organizations may choose to reimburse employees for training costs and/or their time. Other employers may simply make the certification mandatory without offering reimbursement.
Ultimately, the goal is the same: making sure that employees are well-trained and certified. This provides not only peace of mind, but the knowledge that employees can save lives in the event of an emergency.
Pay-As-You-Go Programs
A great way to combine the different CPR training options is through a pay-as-you-go program like ProTrainings. With these programs, staff members receive access to a company-approved CPR platform where they will complete online CPR training. This gives employers control over which course employees take, while leaving the execution of the training in the hands of the employees. Third-party platforms also save employers from having to manage training in-house.
Fully online platforms offer convenience and flexibility for staff, as they can complete their training on their own time and at their own pace. Additionally, the admin dashboard provided allows for easy employer tracking of staff progress and certification status. However, as with all outsourcing, budget restrictions and costs should be taken into account, along with a careful analysis of the unique needs and goals of your company.